FEMTEC supports this initiative and invites for participation.





See more



---

International Congress of the National Center for Research, Clinical Balneology and Rehabilitation


July 6/7 - Moscou

Like every year, on the occasion of the anniversary of its establishment, the National Center for Clinical Research and Rehabilitation of the Ministry of Health of the Russian Federation organizes an International Congress, which deals with the issues of planning and development of the field.

...MORE

---

Thalassotherapy and Balneology


a strategic alliance for the health care and economical development

To identify the possible synergy between the two great therapeutic traditions, Thalassotherapy and Thermal Medicine.
To propose a common and integrated scientific action plan, both economic and social, for the health care, the welfare and the development of the territories.
To evaluate the new scenarios, increasingly real, also due to environmental climate changes related to Health Tourism.

...MORE

---

Belarus new member of FEMTEC!


Framework agreement signed with Belprofsoyuzkurort

The thermal system of Belarus is one of the most complete and updated in Europe with over 50 thermal centers of various sizes and curative profiles.

Among these, the Belprofsoyuzkurort system with over 15 centers is of considerable importance and quality.

...MORE

---

Wellness & Health, new challenges today


Workshop International: let's meet in Cuba !

Important Event held in Havana from 2 to 4 March, 2023 to highlight the current transformation process: in collaboration with FEMTEC, other international institutions, companies, specialists and experts in different sectors.

...MORE

---

ASEAN Pool & Spa Expo 2023


Impact Exhibition Centre - Bangkok, October 23-26

The ASEAN Pool & Spa Expo is one of the largest Southeast Asian events for the pool and spa industry and will be held at the Impact Exhibition Centre in Bangkok, Thailand, October 23-26, 2023.

...MORE

---

Death of Eng. Ennio Gori



The Presidency and the Board of Directors of FEMTEC participate with expressions of condolences for the family on the passing of Eng. Ennio Gori, former President of OMth and Authoritative figure in the International Thermal World.

To Prof A.Fioravanti, current President,expressions of closeness and confirmation for further fruitful collaboration between the two Institutions.

See more


---

1st Anniversary of the Institute
European of Hydrotherapy


Amphithéâtre Lepois - Faculté de Médecine
Campus Brabois Santé - June 15th, 19:00

An initiative also supported by Femtec.

See more

Flyer



---

Participate in a unique FEMTEC's proposal to understand the future of thermalism


New Zealand and Australian geothermal springs
Tour 0rganized by G3T 2023 - JUNE 21-30

This trip will include visits to hot springs in the North and South Island of New Zealand and across Victoria in Australia.

...MORE

---

II International Workshop


Times of Wellness and Health.
Towards an equitable and sustainable future

II Course of the International Chair of Health Tourism, Thermalism and Wellness "Quality and management applied to sustainable tourism. Economic and environmental impacts and the host communities of tourist destinations" - La Habana, 5-9 march 2024

...MORE

---

INTERNATIONAL STUDY DAY



"SEARCHING... THE LOST BREATH!"
Multilateral and integrated approach
for Prevention, Treatment and Wellbeing
Castel San Pietro Terme, Bologna (IT) May 27th 2023

Organized by FEMTEC in collaboration with:

GARD Italy (Global Alliance Chronic Respiratory Diseases)
AIST (Italian Ass. Studio Tosse)
Anusca Palace Hotel - Castel San Pietro Terme

...MORE

---

The Breath of Health - May 17th


Using Mineral Water and Steam for Respiratory Illness, Asthma, and Allergies

A BANA Initiative also supported by Femtec.
See more HERE
Click HERE to register


---

Modern aspects of sanatorium and resort treatment, medical rehabilitation, tourism


International Conference - Taskent, 25-26 May 2023

An initiative in Uzbekistan promoted on the basis of collaboration between FEMTEC, Federation of the Syndicates of Sanatoriun Tashkent and Federation of Thermal Centers and resort department of Uzbekistan.

...MORE

---

Symposium: THE PATIENT OF THE FUTURE


SYSTEMS MEDICINE - Models of integration
in clinical practice and new therapeutic solutions

University of Milan - Sala Napoleonica
Live streaming - See the program: EN , IT

The 2023 edition of the "Systems Medicine Symposium: Models of integration in clinical practice and new therapeutic solutions" takes over from the first edition which, with the subsequent Declaration of Milan 2022, designed the trajectories of the transition from Medicine of the present to that of the future.

...MORE

---






FEMTEC supports this initiative and invites for participation.





See more



---

II International Workshop


Times of Wellness and Health.
Towards an equitable and sustainable future

II Course of the International Chair of Health Tourism, Thermalism and Wellness "Quality and management applied to sustainable tourism. Economic and environmental impacts and the host communities of tourist destinations" - La Habana, 5-9 march 2024

...MORE

---

Death of Eng. Ennio Gori



The Presidency and the Board of Directors of FEMTEC participate with expressions of condolences for the family on the passing of Eng. Ennio Gori, former President of OMth and Authoritative figure in the International Thermal World.

To Prof A.Fioravanti, current President,expressions of closeness and confirmation for further fruitful collaboration between the two Institutions.

See more


---

Thalassotherapy and Balneology


a strategic alliance for the health care and economical development

To identify the possible synergy between the two great therapeutic traditions, Thalassotherapy and Thermal Medicine.
To propose a common and integrated scientific action plan, both economic and social, for the health care, the welfare and the development of the territories.
To evaluate the new scenarios, increasingly real, also due to environmental climate changes related to Health Tourism.

...MORE

---

The Breath of Health - May 17th


Using Mineral Water and Steam for Respiratory Illness, Asthma, and Allergies

A BANA Initiative also supported by Femtec.
See more HERE
Click HERE to register


---

Participate in a unique FEMTEC's proposal to understand the future of thermalism


New Zealand and Australian geothermal springs
Tour 0rganized by G3T 2023 - JUNE 21-30

This trip will include visits to hot springs in the North and South Island of New Zealand and across Victoria in Australia.

...MORE

---

Wellness & Health, new challenges today


Workshop International: let's meet in Cuba !

Important Event held in Havana from 2 to 4 March, 2023 to highlight the current transformation process: in collaboration with FEMTEC, other international institutions, companies, specialists and experts in different sectors.

...MORE

---

Symposium: THE PATIENT OF THE FUTURE


SYSTEMS MEDICINE - Models of integration
in clinical practice and new therapeutic solutions

University of Milan - Sala Napoleonica
Live streaming - See the program: EN , IT

The 2023 edition of the "Systems Medicine Symposium: Models of integration in clinical practice and new therapeutic solutions" takes over from the first edition which, with the subsequent Declaration of Milan 2022, designed the trajectories of the transition from Medicine of the present to that of the future.

...MORE

---

ASEAN Pool & Spa Expo 2023


Impact Exhibition Centre - Bangkok, October 23-26

The ASEAN Pool & Spa Expo is one of the largest Southeast Asian events for the pool and spa industry and will be held at the Impact Exhibition Centre in Bangkok, Thailand, October 23-26, 2023.

...MORE

---

International Congress of the National Center for Research, Clinical Balneology and Rehabilitation


July 6/7 - Moscou

Like every year, on the occasion of the anniversary of its establishment, the National Center for Clinical Research and Rehabilitation of the Ministry of Health of the Russian Federation organizes an International Congress, which deals with the issues of planning and development of the field.

...MORE

---

INTERNATIONAL STUDY DAY



"SEARCHING... THE LOST BREATH!"
Multilateral and integrated approach
for Prevention, Treatment and Wellbeing
Castel San Pietro Terme, Bologna (IT) May 27th 2023

Organized by FEMTEC in collaboration with:

GARD Italy (Global Alliance Chronic Respiratory Diseases)
AIST (Italian Ass. Studio Tosse)
Anusca Palace Hotel - Castel San Pietro Terme

...MORE

---

1st Anniversary of the Institute
European of Hydrotherapy


Amphithéâtre Lepois - Faculté de Médecine
Campus Brabois Santé - June 15th, 19:00

An initiative also supported by Femtec.

See more

Flyer



---

Belarus new member of FEMTEC!


Framework agreement signed with Belprofsoyuzkurort

The thermal system of Belarus is one of the most complete and updated in Europe with over 50 thermal centers of various sizes and curative profiles.

Among these, the Belprofsoyuzkurort system with over 15 centers is of considerable importance and quality.

...MORE

---

Modern aspects of sanatorium and resort treatment, medical rehabilitation, tourism


International Conference - Taskent, 25-26 May 2023

An initiative in Uzbekistan promoted on the basis of collaboration between FEMTEC, Federation of the Syndicates of Sanatoriun Tashkent and Federation of Thermal Centers and resort department of Uzbekistan.

...MORE

---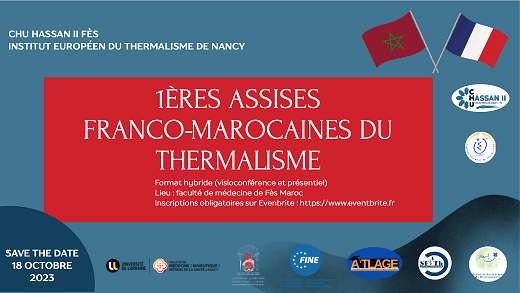 FEMTEC supports this initiative and invites for participation.
See more
---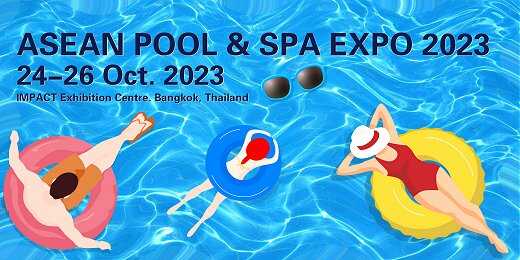 ASEAN Pool & Spa Expo 2023

Impact Exhibition Centre - Bangkok, October 23-26

The ASEAN Pool & Spa Expo is one of the largest Southeast Asian events for the pool and spa industry and will be held at the Impact Exhibition Centre in Bangkok, Thailand, October 23-26, 2023.

...MORE
---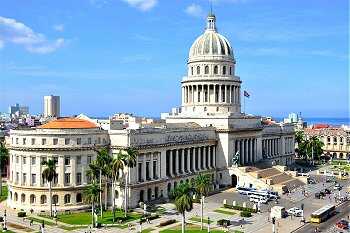 II International Workshop

Times of Wellness and Health.
Towards an equitable and sustainable future

II Course of the International Chair of Health Tourism, Thermalism and Wellness "Quality and management applied to sustainable tourism. Economic and environmental impacts and the host communities of tourist destinations" - La Habana, 5-9 march 2024

...MORE
---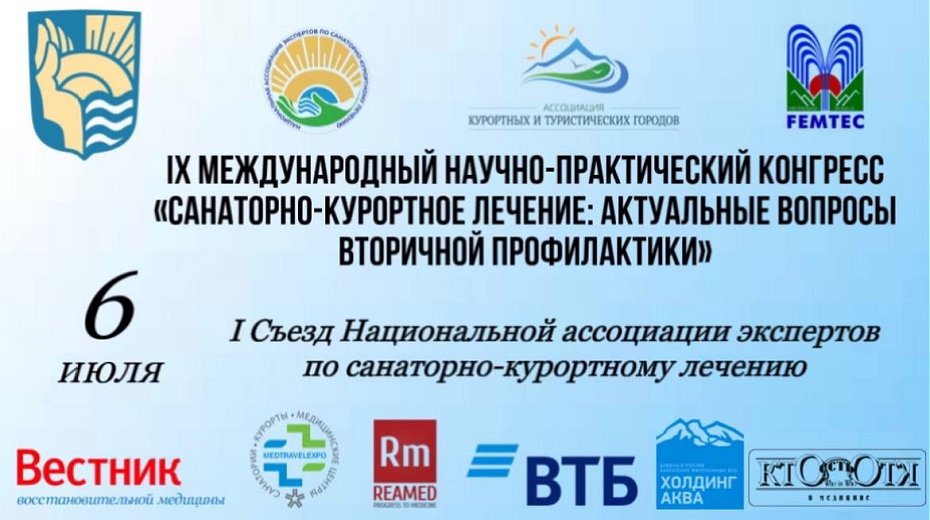 International Congress of the National Center for Research, Clinical Balneology and Rehabilitation

July 6/7 - Moscou

Like every year, on the occasion of the anniversary of its establishment, the National Center for Clinical Research and Rehabilitation of the Ministry of Health of the Russian Federation organizes an International Congress, which deals with the issues of planning and development of the field.

...MORE
---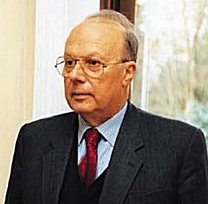 Death of Eng. Ennio Gori


The Presidency and the Board of Directors of FEMTEC participate with expressions of condolences for the family on the passing of Eng. Ennio Gori, former President of OMth and Authoritative figure in the International Thermal World.

To Prof A.Fioravanti, current President,expressions of closeness and confirmation for further fruitful collaboration between the two Institutions.

See more

---

INTERNATIONAL STUDY DAY
"SEARCHING... THE LOST BREATH!"
Multilateral and integrated approach
for Prevention, Treatment and Wellbeing
Castel San Pietro Terme, Bologna (IT) May 27th 2023

Organized by FEMTEC in collaboration with:
GARD Italy (Global Alliance Chronic Respiratory Diseases)
AIST (Italian Ass. Studio Tosse)
Anusca Palace Hotel - Castel San Pietro Terme

...MORE
---

Thalassotherapy and Balneology

a strategic alliance for the health care and economical development

To identify the possible synergy between the two great therapeutic traditions, Thalassotherapy and Thermal Medicine.
To propose a common and integrated scientific action plan, both economic and social, for the health care, the welfare and the development of the territories.
To evaluate the new scenarios, increasingly real, also due to environmental climate changes related to Health Tourism.

...MORE
---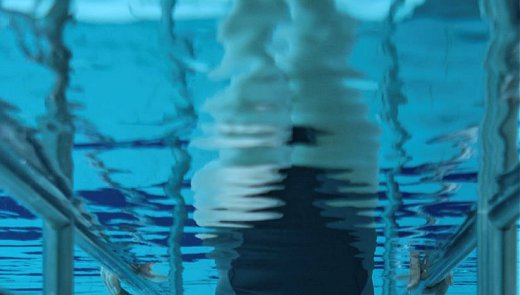 1st Anniversary of the Institute
European of Hydrotherapy

Amphithéâtre Lepois - Faculté de Médecine
Campus Brabois Santé - June 15th, 19:00

An initiative also supported by Femtec.

See more

Flyer


---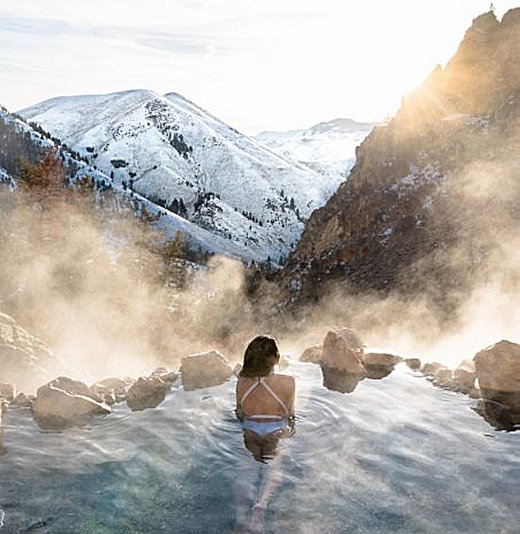 The Breath of Health - May 17th

Using Mineral Water and Steam for Respiratory Illness, Asthma, and Allergies

A BANA Initiative also supported by Femtec.
See more HERE
Click HERE to register

---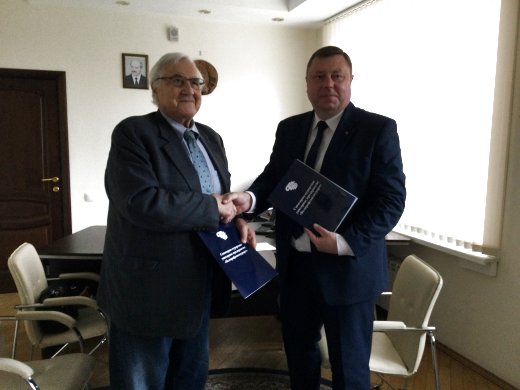 Belarus new member of FEMTEC!

Framework agreement signed with Belprofsoyuzkurort

The thermal system of Belarus is one of the most complete and updated in Europe with over 50 thermal centers of various sizes and curative profiles.

Among these, the Belprofsoyuzkurort system with over 15 centers is of considerable importance and quality.

...MORE
---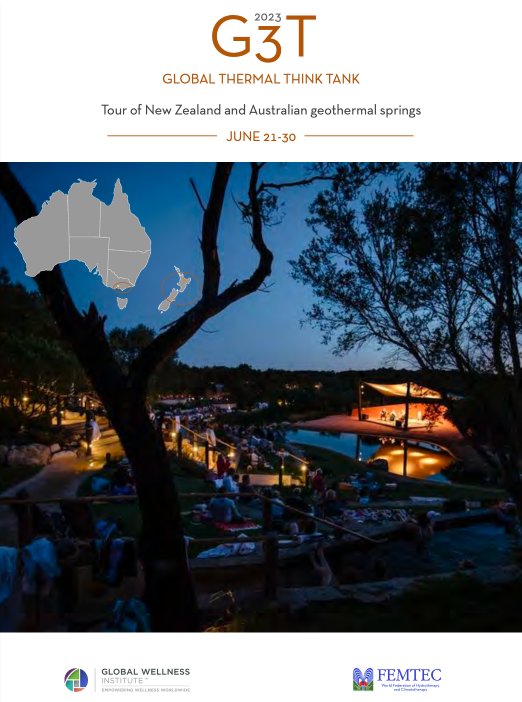 Participate in a unique FEMTEC's proposal to understand the future of thermalism

New Zealand and Australian geothermal springs
Tour 0rganized by G3T 2023 - JUNE 21-30

This trip will include visits to hot springs in the North and South Island of New Zealand and across Victoria in Australia.

...MORE
---

Modern aspects of sanatorium and resort treatment, medical rehabilitation, tourism

International Conference - Taskent, 25-26 May 2023

An initiative in Uzbekistan promoted on the basis of collaboration between FEMTEC, Federation of the Syndicates of Sanatoriun Tashkent and Federation of Thermal Centers and resort department of Uzbekistan.

...MORE
---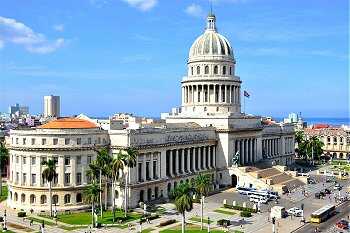 Wellness & Health, new challenges today

Workshop International: let's meet in Cuba !

Important Event held in Havana from 2 to 4 March, 2023 to highlight the current transformation process: in collaboration with FEMTEC, other international institutions, companies, specialists and experts in different sectors.

...MORE
---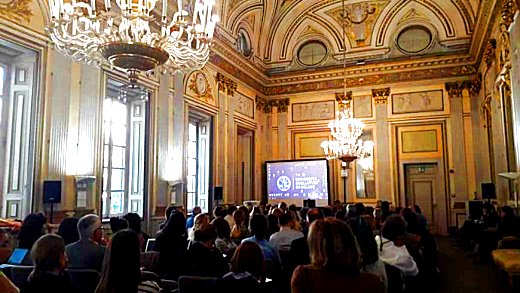 Symposium: THE PATIENT OF THE FUTURE

SYSTEMS MEDICINE - Models of integration
in clinical practice and new therapeutic solutions

University of Milan - Sala Napoleonica
Live streaming - See the program: EN , IT

The 2023 edition of the "Systems Medicine Symposium: Models of integration in clinical practice and new therapeutic solutions" takes over from the first edition which, with the subsequent Declaration of Milan 2022, designed the trajectories of the transition from Medicine of the present to that of the future.

...MORE
---
PAGES [ last one: 12 ] [ present: 11 ][ archive: 11 - 10 - 9 - 8 - 7 - 6 - 5 - 4 - 3 - 2 - 1 - ]
<!######### BANNERS LINK>