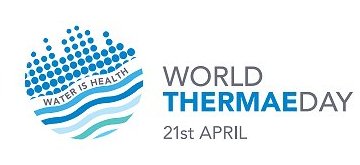 The World Thermae Day
The
World Thermae Day
was launched in conclusion of the 71st FEMTEC Congress, within the framework of the international development. It will be celebrated in the 28 member Countries of FEMTEC on
April 21, 2019
, the date of the foundation of Rome, the mother of all the thermae, and will join and integrate, for specific water-health relations, the celebrations of the
World Water Day
(March 21).
FEMTEC will launch the international E-Learning Course
An Introduction to Thermal Medicine
on occasion of the World Thermae Day, that will be available in multiple languages (Italian, English, Russian, Chinese), and an exhibition dedicated to the role of
Hydrotherapy in the History of Civilizations
.
The tradition of bathing is also important from the antropological point of wiew: to take a bath the 22nd of June is very common in the northen population. This is connected with ritual and astronomical situations and for that we support the idea celebrating this day.
Water is life, health, culture
.
We will have three celebration's days of water :
World Water Day, promoted by the WMO - March 22nd

WorldTHERMAEday, celebrating Water for Health (under the support of WHO) - April 21st

Worldbathingday, celebrating Water and Human Antropology and tradition - June 22nd

See the World Thermae Day Flyer