The FEMTEC Hymn
The
FEMTEC SUITE
, subtitled with the famous Latin adage
Ubi Thermae Ibi Salus
, consists of three frames for Piano and Soprano: its words come from texts about thermae of Latin poets:
"Quamdiu ad aquas fuit, numquam est mortuus" (Cicero, De Orat. II, 67, 274)
"Medicina ... quae nunc aquarum pertugio utitur in nulla parte naturae maiora essere miracula" (Pliny the Elder, Nat. Hist. XXXI, 1, 26)
"Non est vivere, sed valere vita" (Martial, Epigr., VI, 70)
The SUITE is based on an idea of Prof.
Umberto Solimene
, President of FEMTEC, has been composed by
Livio Claudio Bressan
, musician and neurologist, and was played for the very first time at the
Batumi Opera Theatre
.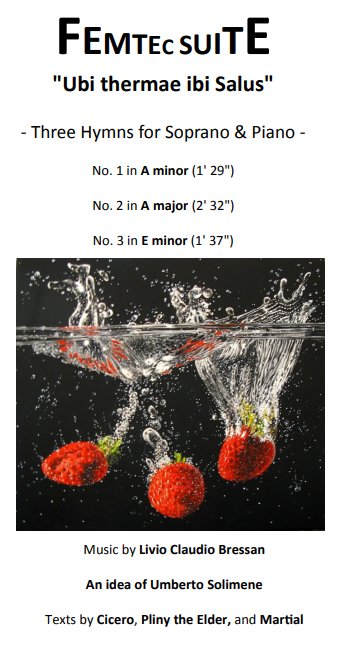 Listening and singing their own Hymn, both at times of scientific work and leisure during the FEMTEC life, may enhance the Members' sense of belonging to the association and their collective identity.
See more about the official Orchestra of FEMTEC (EN, IT, RU) and Soprano (EN, IT, RU).

See the music sheet N° 1 (A minor)
See the music sheet N° 2 (A major)
See the music sheet N° 3 (E minor)
See more details: EN - RU
See the Conference images with the Suite background