ASEAN Pool & Spa Expo 2023


Impact Exhibition Centre - Bangkok, October 23-26

The ASEAN Pool & Spa Expo is one of the largest Southeast Asian events for the pool and spa industry and will be held at the Impact Exhibition Centre in Bangkok, Thailand, October 23-26, 2023.

The global market for pools and spas is projected to grow from about $19.1 billion in 2022 to around $23.6 billion by 2027. At an average rate of 4.3% each year, this growth is influenced by people becoming more health-conscious and wanting more recreational and exercise options.

Additionally, the tourism industry is growing, and investments in luxurious homes post the COVID-19 pandemic have led to more pools and spas for relaxation installations.

Key Points:


Growth Factors: The increasing focus on health and well-being drives the demand for pools and spas. Tourism growth and investments in luxury homes also contribute to this trend.
Asia Pacific Leading: The fastest-growing region for the pool and spa market is Asia Pacific, which includes countries like Japan, India, and China with strong economic growth potential.
Thailand's Impact: Thailand stands out as a significant market in the Asia Pacific. The growth of the tourism industry, with more hotels and resorts, is leading to higher demand for pools and spas.
Hospitality Industry Driving Demand: The hospitality industry, particularly hydrotherapy bathtubs, is a major factor boosting the spa market. Traditional massages are also gaining popularity and driving the demand for pools and spas.

*
In summary, the global demand for pools and spas is on the rise, with the Asia Pacific region, especially Thailand, showing strong growth potential due to increasing tourism and interest in health and relaxation.

With 150 Exhibitors, 10,000 visitors, and a 10,000 sq.m. exhibition area, ASEAN Pool & Spa Expo 2023 is considered one of the world's most promising industry trade shows.

For more information, please contact Jenny via jenny0124@aliyun.com or visit: www.aseanpoolspaexpo.com




BACK TO MAIN PAGE











ASEAN Pool & Spa Expo 2023


Impact Exhibition Centre - Bangkok, October 23-26

The ASEAN Pool & Spa Expo is one of the largest Southeast Asian events for the pool and spa industry and will be held at the Impact Exhibition Centre in Bangkok, Thailand, October 23-26, 2023.

The global market for pools and spas is projected to grow from about $19.1 billion in 2022 to around $23.6 billion by 2027. At an average rate of 4.3% each year, this growth is influenced by people becoming more health-conscious and wanting more recreational and exercise options.

Additionally, the tourism industry is growing, and investments in luxurious homes post the COVID-19 pandemic have led to more pools and spas for relaxation installations.

Key Points:


Growth Factors: The increasing focus on health and well-being drives the demand for pools and spas. Tourism growth and investments in luxury homes also contribute to this trend.
Asia Pacific Leading: The fastest-growing region for the pool and spa market is Asia Pacific, which includes countries like Japan, India, and China with strong economic growth potential.
Thailand's Impact: Thailand stands out as a significant market in the Asia Pacific. The growth of the tourism industry, with more hotels and resorts, is leading to higher demand for pools and spas.
Hospitality Industry Driving Demand: The hospitality industry, particularly hydrotherapy bathtubs, is a major factor boosting the spa market. Traditional massages are also gaining popularity and driving the demand for pools and spas.

*
In summary, the global demand for pools and spas is on the rise, with the Asia Pacific region, especially Thailand, showing strong growth potential due to increasing tourism and interest in health and relaxation.

With 150 Exhibitors, 10,000 visitors, and a 10,000 sq.m. exhibition area, ASEAN Pool & Spa Expo 2023 is considered one of the world's most promising industry trade shows.

For more information, please contact Jenny via jenny0124@aliyun.com or visit: www.aseanpoolspaexpo.com




BACK TO MAIN PAGE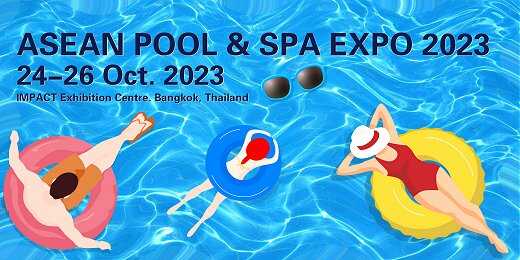 ASEAN Pool & Spa Expo 2023

Impact Exhibition Centre - Bangkok, October 23-26

The ASEAN Pool & Spa Expo is one of the largest Southeast Asian events for the pool and spa industry and will be held at the Impact Exhibition Centre in Bangkok, Thailand, October 23-26, 2023.

The global market for pools and spas is projected to grow from about $19.1 billion in 2022 to around $23.6 billion by 2027. At an average rate of 4.3% each year, this growth is influenced by people becoming more health-conscious and wanting more recreational and exercise options.

Additionally, the tourism industry is growing, and investments in luxurious homes post the COVID-19 pandemic have led to more pools and spas for relaxation installations.

Key Points:

Growth Factors: The increasing focus on health and well-being drives the demand for pools and spas. Tourism growth and investments in luxury homes also contribute to this trend.
Asia Pacific Leading: The fastest-growing region for the pool and spa market is Asia Pacific, which includes countries like Japan, India, and China with strong economic growth potential.
Thailand's Impact: Thailand stands out as a significant market in the Asia Pacific. The growth of the tourism industry, with more hotels and resorts, is leading to higher demand for pools and spas.
Hospitality Industry Driving Demand: The hospitality industry, particularly hydrotherapy bathtubs, is a major factor boosting the spa market. Traditional massages are also gaining popularity and driving the demand for pools and spas.
*
In summary, the global demand for pools and spas is on the rise, with the Asia Pacific region, especially Thailand, showing strong growth potential due to increasing tourism and interest in health and relaxation.

With 150 Exhibitors, 10,000 visitors, and a 10,000 sq.m. exhibition area, ASEAN Pool & Spa Expo 2023 is considered one of the world's most promising industry trade shows.

For more information, please contact Jenny via jenny0124@aliyun.com or visit: www.aseanpoolspaexpo.com
BACK TO MAIN PAGE
PAGES [ last one: 12 ] [ archive: 11 - 10 - 9 - 8 - 7 - 6 - 5 - 4 - 3 - 2 - 1 - ]
<!######### BANNERS LINK>