II International Workshop


Times of Wellness and Health.
Towards an equitable and sustainable future

II Course of the International Chair of Health Tourism, Thermalism and Wellness "Quality and management applied to sustainable tourism. Economic and environmental impacts and the host communities of tourist destinations" - La Habana, 5-9 march 2024

The success of the I International Workshop and the inauguration of the International Chair held in Havana from March 2 to 4, 2023 in collaboration with FEMTEC, international institutions, companies, specialists and experts in different sectors, allows us to convene the II edition of the Workshop and the International Course. The connection, exchange of ideas and new opportunities that are fostered in the interaction between the participants will be invaluable.

Conferences on scientific-practical innovations in hydrotherapy, natural resources, healthy and sustainable lifestyles, new initiatives for social and economic recovery, equality and well-being in women, advocating for the implementation of the 2030 Agenda including its economic, social and environmental dimensions.

A reflection on Health and Well-being with international level experts, where innovation, new technologies and industry trends in this sector have been growing exponentially in recent years. Creativity, transformation, digitization, excellence in services, business opportunities that generate effective professional ties, will be prioritized arguments.

Thermal centers and UNESCO heritage cities will be visited where culture, history, art and extraordinary natural beauty are integrated, generating identity and recognition.

The scientific and social program will be published on the event website.

Organizing committee:
email: floranamenendez.femtec@yahoo.com

Promoting the future of Health and Well-being for all!
We count on your important participation!




BACK TO MAIN PAGE











II International Workshop


Times of Wellness and Health.
Towards an equitable and sustainable future

II Course of the International Chair of Health Tourism, Thermalism and Wellness "Quality and management applied to sustainable tourism. Economic and environmental impacts and the host communities of tourist destinations" - La Habana, 5-9 march 2024

The success of the I International Workshop and the inauguration of the International Chair held in Havana from March 2 to 4, 2023 in collaboration with FEMTEC, international institutions, companies, specialists and experts in different sectors, allows us to convene the II edition of the Workshop and the International Course. The connection, exchange of ideas and new opportunities that are fostered in the interaction between the participants will be invaluable.

Conferences on scientific-practical innovations in hydrotherapy, natural resources, healthy and sustainable lifestyles, new initiatives for social and economic recovery, equality and well-being in women, advocating for the implementation of the 2030 Agenda including its economic, social and environmental dimensions.

A reflection on Health and Well-being with international level experts, where innovation, new technologies and industry trends in this sector have been growing exponentially in recent years. Creativity, transformation, digitization, excellence in services, business opportunities that generate effective professional ties, will be prioritized arguments.

Thermal centers and UNESCO heritage cities will be visited where culture, history, art and extraordinary natural beauty are integrated, generating identity and recognition.

The scientific and social program will be published on the event website.

Organizing committee:
email: floranamenendez.femtec@yahoo.com

Promoting the future of Health and Well-being for all!
We count on your important participation!




BACK TO MAIN PAGE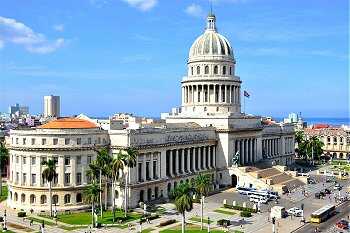 II International Workshop

Times of Wellness and Health.
Towards an equitable and sustainable future

II Course of the International Chair of Health Tourism, Thermalism and Wellness "Quality and management applied to sustainable tourism. Economic and environmental impacts and the host communities of tourist destinations" - La Habana, 5-9 march 2024

The success of the I International Workshop and the inauguration of the International Chair held in Havana from March 2 to 4, 2023 in collaboration with FEMTEC, international institutions, companies, specialists and experts in different sectors, allows us to convene the II edition of the Workshop and the International Course. The connection, exchange of ideas and new opportunities that are fostered in the interaction between the participants will be invaluable.

Conferences on scientific-practical innovations in hydrotherapy, natural resources, healthy and sustainable lifestyles, new initiatives for social and economic recovery, equality and well-being in women, advocating for the implementation of the 2030 Agenda including its economic, social and environmental dimensions.

A reflection on Health and Well-being with international level experts, where innovation, new technologies and industry trends in this sector have been growing exponentially in recent years. Creativity, transformation, digitization, excellence in services, business opportunities that generate effective professional ties, will be prioritized arguments.

Thermal centers and UNESCO heritage cities will be visited where culture, history, art and extraordinary natural beauty are integrated, generating identity and recognition.

The scientific and social program will be published on the event website.

Organizing committee:
email: floranamenendez.femtec@yahoo.com

Promoting the future of Health and Well-being for all!
We count on your important participation!
BACK TO MAIN PAGE
PAGES [ last one: 12 ] [ archive: 11 - 10 - 9 - 8 - 7 - 6 - 5 - 4 - 3 - 2 - 1 - ]
<!######### BANNERS LINK>