WORLD WATER DAY 2022


GROUNDWATER - MAKING THE INVISIBLE VISIBLE

World Water Day, held on 22 March every year since 1993, celebrates water and raises awareness of the 2 billion people living without access to safe water. A core focus of World Water Day is to support the achievement of Sustainable Development Goal 6: water and sanitation for all by 2030.

The protection of natural mineral water basins is one of the most important elements in balneology: protected waters mean safe waters for therapeutic purposes. Since its foundation in 1937, FEMTEC has always dedicated the efforts of its international experts to this important issue.



Therefore, also for 2022 it supports the initiative promoted by UN, UNESCO, WHO by organizing an international meeting on the subject, in collaboration with the National Center of Balneology and Rehabilitation of the Ministry of Health of the Russian Federation.


Groundwater is invisible, but its impact is visible everywhere.
Out of sight, under our feet, groundwater is a hidden treasure that enriches our lives.
Almost all of the liquid freshwater in the world is groundwater.
As climate change gets worse, groundwater will become more and more critical.
We need to work together to sustainably manage this precious resource.
Groundwater may be out of sight, but it must not be out of mind.

See the Program

See more




BACK TO MAIN PAGE











WORLD WATER DAY 2022


GROUNDWATER - MAKING THE INVISIBLE VISIBLE

World Water Day, held on 22 March every year since 1993, celebrates water and raises awareness of the 2 billion people living without access to safe water. A core focus of World Water Day is to support the achievement of Sustainable Development Goal 6: water and sanitation for all by 2030.

The protection of natural mineral water basins is one of the most important elements in balneology: protected waters mean safe waters for therapeutic purposes. Since its foundation in 1937, FEMTEC has always dedicated the efforts of its international experts to this important issue.



Therefore, also for 2022 it supports the initiative promoted by UN, UNESCO, WHO by organizing an international meeting on the subject, in collaboration with the National Center of Balneology and Rehabilitation of the Ministry of Health of the Russian Federation.


Groundwater is invisible, but its impact is visible everywhere.
Out of sight, under our feet, groundwater is a hidden treasure that enriches our lives.
Almost all of the liquid freshwater in the world is groundwater.
As climate change gets worse, groundwater will become more and more critical.
We need to work together to sustainably manage this precious resource.
Groundwater may be out of sight, but it must not be out of mind.

See the Program

See more




BACK TO MAIN PAGE








WORLD WATER DAY 2022

GROUNDWATER - MAKING THE INVISIBLE VISIBLE

World Water Day, held on 22 March every year since 1993, celebrates water and raises awareness of the 2 billion people living without access to safe water. A core focus of World Water Day is to support the achievement of Sustainable Development Goal 6: water and sanitation for all by 2030.

The protection of natural mineral water basins is one of the most important elements in balneology: protected waters mean safe waters for therapeutic purposes. Since its foundation in 1937, FEMTEC has always dedicated the efforts of its international experts to this important issue.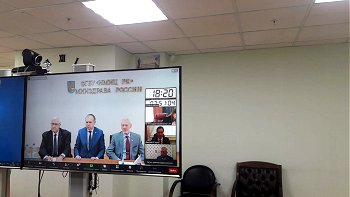 Therefore, also for 2022 it supports the initiative promoted by UN, UNESCO, WHO by organizing an international meeting on the subject, in collaboration with the National Center of Balneology and Rehabilitation of the Ministry of Health of the Russian Federation.

Groundwater is invisible, but its impact is visible everywhere.
Out of sight, under our feet, groundwater is a hidden treasure that enriches our lives.
Almost all of the liquid freshwater in the world is groundwater.
As climate change gets worse, groundwater will become more and more critical.
We need to work together to sustainably manage this precious resource.
Groundwater may be out of sight, but it must not be out of mind.

See the Program

See more
BACK TO MAIN PAGE
<!######### BANNERS LINK>