The Journal of Restorative Medicine and Rehabilitation has been inserted in Scopus.


FEMTEC is proud of this achievement and invites specialists to publish their researches

An important event in the world of balneology. World balneology finally has its own qualified journal (with a prestigious International Editorial Board) accredited by Scopus, and published by the National Center for Rehabilitation and Balneology of the Ministry of Health of the Russian Federation.

Femtec and its Experts have collaborated with the Journal since its foundation.

With this coveted achievement, the Center, which recently celebrated 100 years of its founding, confirms its world leadership in the field. With the prestigious accreditation in Scopus, scholars in the field will have a dedicated publishing platform, serious and credible professional.

Particular attention is given to the themes of integrated medicine where, in an interdisciplinary vision, the results of experimental, clinical and managerial research in the field can be presented.



The Journal

Scopus




BACK TO MAIN PAGE











The Journal of Restorative Medicine and Rehabilitation has been inserted in Scopus.


FEMTEC is proud of this achievement and invites specialists to publish their researches

An important event in the world of balneology. World balneology finally has its own qualified journal (with a prestigious International Editorial Board) accredited by Scopus, and published by the National Center for Rehabilitation and Balneology of the Ministry of Health of the Russian Federation.

Femtec and its Experts have collaborated with the Journal since its foundation.

With this coveted achievement, the Center, which recently celebrated 100 years of its founding, confirms its world leadership in the field. With the prestigious accreditation in Scopus, scholars in the field will have a dedicated publishing platform, serious and credible professional.

Particular attention is given to the themes of integrated medicine where, in an interdisciplinary vision, the results of experimental, clinical and managerial research in the field can be presented.



The Journal

Scopus




BACK TO MAIN PAGE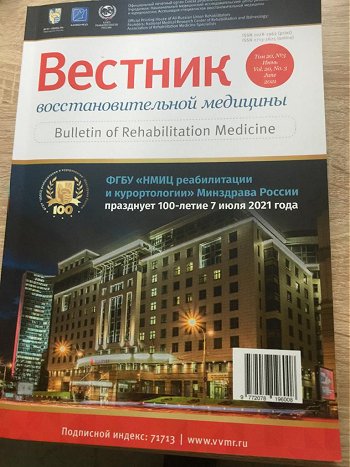 The Journal of Restorative Medicine and Rehabilitation has been inserted in Scopus.

FEMTEC is proud of this achievement and invites specialists to publish their researches

An important event in the world of balneology. World balneology finally has its own qualified journal (with a prestigious International Editorial Board) accredited by Scopus, and published by the National Center for Rehabilitation and Balneology of the Ministry of Health of the Russian Federation.

Femtec and its Experts have collaborated with the Journal since its foundation.

With this coveted achievement, the Center, which recently celebrated 100 years of its founding, confirms its world leadership in the field. With the prestigious accreditation in Scopus, scholars in the field will have a dedicated publishing platform, serious and credible professional.

Particular attention is given to the themes of integrated medicine where, in an interdisciplinary vision, the results of experimental, clinical and managerial research in the field can be presented.


The Journal
Scopus
BACK TO MAIN PAGE
PAGES [ last one: 12 ] [ archive: 11 - 10 - 9 - 8 - 7 - 6 - 5 - 4 - 3 - 2 - 1 - ]
<!######### BANNERS LINK>