The G20 of Women for Gender Medicine


European University Institute in Florence, Italy

At the European University Institute in Florence, Italy, on 23 settember, the G20 women's delegation raised the theme of a more equitable society, of a medicine that takes gender differences into account.

Present at the meeting:

Monica Baldi, Vice president of Europian Parliament former members association
Elvira Marasco, Head of the Italy Delegation of Women 20,
Martina Rogato, Sherpa W20,
Florana MenÚndez, Facilitator of the W20 Health Commission, FEMTEC Vice President, coordinator of the Femtec Health & Gender Commission.



Women have borne the brunt of the pandemic in the family, in hospitals, in the workplace, paying a very high price.

In this meeting promoted by EIU, the Association of former European parliamentarians and the W20, members of the Health Commission of the W20 with 19 international experts, coordinated by Prof. Flavia Franconi, presented very current and interesting scientific papers.



Among these, the "Charta di Florentia" in 6 points, on the protection of women's health and the organization of health services with a recommendation for the leaders of the G20 with the aim that they become part of the final declaration of the G20 at the end of October.

The forum of the most industrialized countries is asked to close the gender gap, equality at work and better services. A fairer society but also a medicine that is attentive to Gender Medicine.

Click to see the video of the event






BACK TO MAIN PAGE











The G20 of Women for Gender Medicine


European University Institute in Florence, Italy

At the European University Institute in Florence, Italy, on 23 settember, the G20 women's delegation raised the theme of a more equitable society, of a medicine that takes gender differences into account.

Present at the meeting:

Monica Baldi, Vice president of Europian Parliament former members association
Elvira Marasco, Head of the Italy Delegation of Women 20,
Martina Rogato, Sherpa W20,
Florana MenÚndez, Facilitator of the W20 Health Commission, FEMTEC Vice President, coordinator of the Femtec Health & Gender Commission.



Women have borne the brunt of the pandemic in the family, in hospitals, in the workplace, paying a very high price.

In this meeting promoted by EIU, the Association of former European parliamentarians and the W20, members of the Health Commission of the W20 with 19 international experts, coordinated by Prof. Flavia Franconi, presented very current and interesting scientific papers.



Among these, the "Charta di Florentia" in 6 points, on the protection of women's health and the organization of health services with a recommendation for the leaders of the G20 with the aim that they become part of the final declaration of the G20 at the end of October.

The forum of the most industrialized countries is asked to close the gender gap, equality at work and better services. A fairer society but also a medicine that is attentive to Gender Medicine.

Click to see the video of the event






BACK TO MAIN PAGE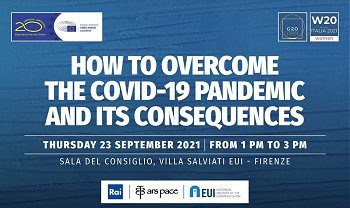 The G20 of Women for Gender Medicine

European University Institute in Florence, Italy

At the European University Institute in Florence, Italy, on 23 settember, the G20 women's delegation raised the theme of a more equitable society, of a medicine that takes gender differences into account.

Present at the meeting:

Monica Baldi, Vice president of Europian Parliament former members association
Elvira Marasco, Head of the Italy Delegation of Women 20,
Martina Rogato, Sherpa W20,
Florana MenÚndez, Facilitator of the W20 Health Commission, FEMTEC Vice President, coordinator of the Femtec Health & Gender Commission.





Women have borne the brunt of the pandemic in the family, in hospitals, in the workplace, paying a very high price.

In this meeting promoted by EIU, the Association of former European parliamentarians and the W20, members of the Health Commission of the W20 with 19 international experts, coordinated by Prof. Flavia Franconi, presented very current and interesting scientific papers.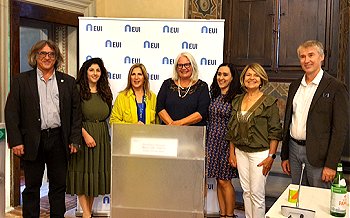 Among these, the "Charta di Florentia" in 6 points, on the protection of women's health and the organization of health services with a recommendation for the leaders of the G20 with the aim that they become part of the final declaration of the G20 at the end of October.

The forum of the most industrialized countries is asked to close the gender gap, equality at work and better services. A fairer society but also a medicine that is attentive to Gender Medicine.

Click to see the video of the event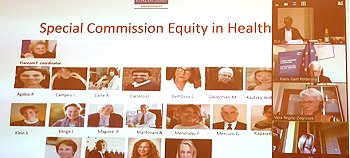 BACK TO MAIN PAGE
<!######### BANNERS LINK>