73 FEMTEC Congress - CHONGQING November 2020 In view of the well-known health events we are in contact with the Authorities and Colleagues in Chongqing for any developments and planning. WE WILL INFORM YOU AS SOON AS POSSIBLE





Tunisia Health Expo is a major international event of the Health sector and ranks as the biggest biennal international event devoted to Health in Tunisia.

It is organized every 2 years by Société des Foires Internationales de Tunis under the aegis of the Ministry of Health and in collaboration with the National Health Federation.

Since the 4th edition, the Tunisia Destination Santé label has been adopted to highlight the potential of Tunisia in the health sector and in particular the reception and care of foreign patients. But the goal is also to promote the Tourism ...

In fact, the ''Tourism of Health and Wellness'' sector is becoming an important business in many countries: while tourism in general grows by 4% per year, this sector has a growth of 7% and entails an important added value. Tunisia is very active in medical tourism and wellness. Tunisian clinics have grown a lot over the last five years, thanks to the many doctors trained in Europe and USA, to prices 50% cheaper than in Europe, to a welcoming environment in all respects. So medical tourism in Tunisia is an important activity for local revenues and employment.



During the Health Expo a meeting was held on thalassotherapy, a sector in which Tunisia is the second world leader, with about 60 dedicated Centers. At this meeting, coordinated by Mr. Rzig Ouslati (General Director of Thermalisme and Hydrotherapy National Office - Health Ministry - and FEMTEC Vice President), FEMTEC has been represented by Fausto Bonsignori (IT), Massimo Boaron (PT) and Olga Sordu (RU).

Interventions of FEMTEC Representatives:

L'Hydrothérapie en Tunisie - Dr. Rzig Ouslati

Tourisme-Santé-Bien-être: une stratégie globale - Prof. Massimo Boaron

La symbiose des sciences avec le thermalisme et l'hydrothérapie - Dr. Olga Surdu




BACK TO MAIN PAGE













Tunisia Health Expo is a major international event of the Health sector and ranks as the biggest biennal international event devoted to Health in Tunisia.

It is organized every 2 years by Société des Foires Internationales de Tunis under the aegis of the Ministry of Health and in collaboration with the National Health Federation.

Since the 4th edition, the Tunisia Destination Santé label has been adopted to highlight the potential of Tunisia in the health sector and in particular the reception and care of foreign patients. But the goal is also to promote the Tourism ...

In fact, the ''Tourism of Health and Wellness'' sector is becoming an important business in many countries: while tourism in general grows by 4% per year, this sector has a growth of 7% and entails an important added value. Tunisia is very active in medical tourism and wellness. Tunisian clinics have grown a lot over the last five years, thanks to the many doctors trained in Europe and USA, to prices 50% cheaper than in Europe, to a welcoming environment in all respects. So medical tourism in Tunisia is an important activity for local revenues and employment.



During the Health Expo a meeting was held on thalassotherapy, a sector in which Tunisia is the second world leader, with about 60 dedicated Centers. At this meeting, coordinated by Mr. Rzig Ouslati (General Director of Thermalisme and Hydrotherapy National Office - Health Ministry - and FEMTEC Vice President), FEMTEC has been represented by Fausto Bonsignori (IT), Massimo Boaron (PT) and Olga Sordu (RU).

Interventions of FEMTEC Representatives:

L'Hydrothérapie en Tunisie - Dr. Rzig Ouslati

Tourisme-Santé-Bien-être: une stratégie globale - Prof. Massimo Boaron

La symbiose des sciences avec le thermalisme et l'hydrothérapie - Dr. Olga Surdu




BACK TO MAIN PAGE










Tunisia Health Expo is a major international event of the Health sector and ranks as the biggest biennal international event devoted to Health in Tunisia.

It is organized every 2 years by Société des Foires Internationales de Tunis under the aegis of the Ministry of Health and in collaboration with the National Health Federation.

Since the 4th edition, the Tunisia Destination Santé label has been adopted to highlight the potential of Tunisia in the health sector and in particular the reception and care of foreign patients. But the goal is also to promote the Tourism ...

In fact, the ''Tourism of Health and Wellness'' sector is becoming an important business in many countries: while tourism in general grows by 4% per year, this sector has a growth of 7% and entails an important added value. Tunisia is very active in medical tourism and wellness. Tunisian clinics have grown a lot over the last five years, thanks to the many doctors trained in Europe and USA, to prices 50% cheaper than in Europe, to a welcoming environment in all respects. So medical tourism in Tunisia is an important activity for local revenues and employment.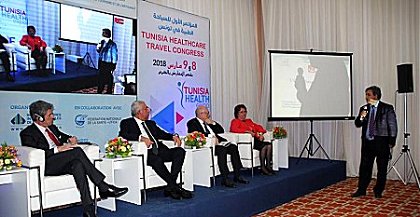 During the Health Expo a meeting was held on thalassotherapy, a sector in which Tunisia is the second world leader, with about 60 dedicated Centers. At this meeting, coordinated by Mr. Rzig Ouslati (General Director of Thermalisme and Hydrotherapy National Office - Health Ministry - and FEMTEC Vice President), FEMTEC has been represented by Fausto Bonsignori (IT), Massimo Boaron (PT) and Olga Sordu (RU).

Interventions of FEMTEC Representatives:

L'Hydrothérapie en Tunisie - Dr. Rzig Ouslati

Tourisme-Santé-Bien-être: une stratégie globale - Prof. Massimo Boaron

La symbiose des sciences avec le thermalisme et l'hydrothérapie - Dr. Olga Surdu
BACK TO MAIN PAGE
PAGES [ last one: 5 ] [ archive: 4 - 3 - 2 - 1 - ]
<!######### BANNERS LINK>