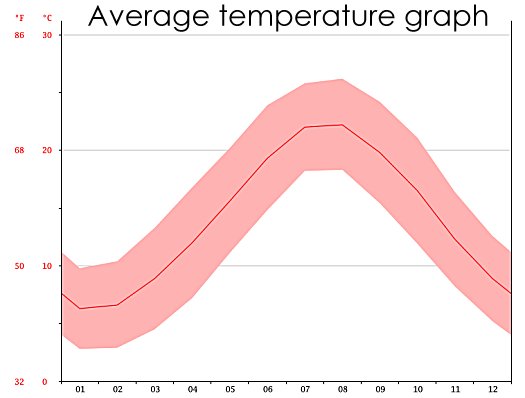 Climate
Batumi has a humid subtropical climate (Cfa) according to Köppen's classification. The city's climate is heavily influenced by the onshore flow from the Black Sea and is subject to the orographic effect of the nearby hills and mountains, resulting in significant rainfall throughout most of the year, making Batumi the wettest city in both Georgia and the entire Caucasus Region.
The average annual temperature in Batumi is approximately 14 °C (57 °F). January is the coldest month with an average temperature of 7 °C (45 °F). August is the hottest month, with an average temperature of 22 °C (72 °F). The absolute minimum recorded temperature is -6 °C (21 °F), and the absolute maximum is 40 °C (104 °F). The number of days with daily temperatures above 10 °C (50 °F) is 239. The city receives 1958 hours of sunshine per year.
Batumi's average annual precipitation is 2,392 mm (94.2 in). December is the wettest month with an average of 303 mm (11.9 in) of precipitation, while May is the driest, averaging 84 mm (3.3 in). Batumi generally does not receive significant amounts of snow (accumulating snowfall of more than 30 cm (11.8 in)), and the number of days with snow cover for the year is 12. The average level of relative humidity ranges from 70-80%.