The 100th anniversary of the Russian National Center for Rehabilitation and Balneology


FEMTEC Certificate of Excellence awarded to the Center for the 100th anniversary of its foundation

On the 100th anniversary of the foundation of the National Center for Rehabilitation and Balneology of the Ministry of Health of the Russian Federation, Femtec awarded the prestigious structure the Certificate of Excellence for the quality of clinical services and research activities.



The President of Femtec, Prof. Umberto Solimene, presented the important recognition to the Director of the Center, Prof. Anatoly Fesiun during a special ceremony on December 28, 2021.

For several decades Femtec has been collaborating with the Center, located in Moscow in a modern 11-storey building: a complex that is unique in the world for its therapeutic offer, research and equipment, which has 6 large clinical spas with about 2000 beds.

More information on the Centre's activity can be seen on the website: www.nmicrk.ru.




BACK TO MAIN PAGE











The 100th anniversary of the Russian National Center for Rehabilitation and Balneology


FEMTEC Certificate of Excellence awarded to the Center for the 100th anniversary of its foundation

On the 100th anniversary of the foundation of the National Center for Rehabilitation and Balneology of the Ministry of Health of the Russian Federation, Femtec awarded the prestigious structure the Certificate of Excellence for the quality of clinical services and research activities.



The President of Femtec, Prof. Umberto Solimene, presented the important recognition to the Director of the Center, Prof. Anatoly Fesiun during a special ceremony on December 28, 2021.

For several decades Femtec has been collaborating with the Center, located in Moscow in a modern 11-storey building: a complex that is unique in the world for its therapeutic offer, research and equipment, which has 6 large clinical spas with about 2000 beds.

More information on the Centre's activity can be seen on the website: www.nmicrk.ru.




BACK TO MAIN PAGE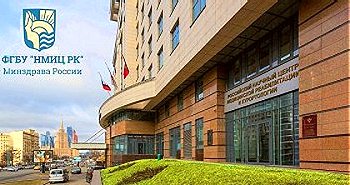 The 100th anniversary of the Russian National Center for Rehabilitation and Balneology

FEMTEC Certificate of Excellence awarded to the Center for the 100th anniversary of its foundation

On the 100th anniversary of the foundation of the National Center for Rehabilitation and Balneology of the Ministry of Health of the Russian Federation, Femtec awarded the prestigious structure the Certificate of Excellence for the quality of clinical services and research activities.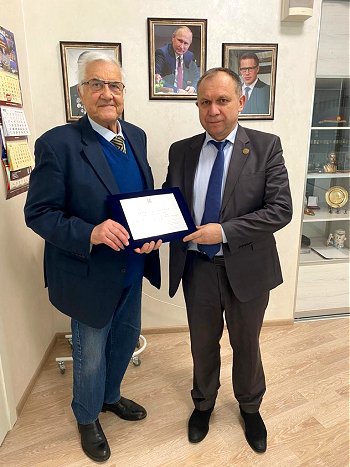 The President of Femtec, Prof. Umberto Solimene, presented the important recognition to the Director of the Center, Prof. Anatoly Fesiun during a special ceremony on December 28, 2021.

For several decades Femtec has been collaborating with the Center, located in Moscow in a modern 11-storey building: a complex that is unique in the world for its therapeutic offer, research and equipment, which has 6 large clinical spas with about 2000 beds.

More information on the Centre's activity can be seen on the website: www.nmicrk.ru.
BACK TO MAIN PAGE
PAGES [ last one: 12 ] [ archive: 11 - 10 - 9 - 8 - 7 - 6 - 5 - 4 - 3 - 2 - 1 - ]
<!######### BANNERS LINK>