TERMATALIA 2021


International Congress on Water & Health
September 15, 16 and 17, 2021 - Ourense (Galicia) - Spain - Hybrid format (face-to-face and online)

In the XV International Meeting on Water and Health (www.termatalia.com), FEMTEC will participate as every year in Termatalia and will be represented by its vice president Prof. Florana MenÚndez with a speech on "Restoration of Thermal Centers in a Post Covid World".

Termatalia will bring together professionals from more than 25 countries, promoting the exchange of business, institutional and social experience. A cooperation instrument in order to promote the strategic market of Health and Wellness Tourism.



Solymed Travel, tour operator and travel agency specialized in Health and Wellbeing, will participate in the Workshop with Tour Operators and in the Business Round with its Health and Wellbeing Tourism brands. In the semester it will launch the New Health, Wellness and Nature Brand and Web, with destinations specialized mainly in thermal centers, thalassotherapy and rural health tourism, all focused on contact with nature, tradition, art and local cultures.

It will also have various sessions among which stand out: older adults, accessible tourism, transformative trips, families, women, as well as the promotion of other international events in the sector.




BACK TO MAIN PAGE











TERMATALIA 2021


International Congress on Water & Health
September 15, 16 and 17, 2021 - Ourense (Galicia) - Spain - Hybrid format (face-to-face and online)

In the XV International Meeting on Water and Health (www.termatalia.com), FEMTEC will participate as every year in Termatalia and will be represented by its vice president Prof. Florana MenÚndez with a speech on "Restoration of Thermal Centers in a Post Covid World".

Termatalia will bring together professionals from more than 25 countries, promoting the exchange of business, institutional and social experience. A cooperation instrument in order to promote the strategic market of Health and Wellness Tourism.



Solymed Travel, tour operator and travel agency specialized in Health and Wellbeing, will participate in the Workshop with Tour Operators and in the Business Round with its Health and Wellbeing Tourism brands. In the semester it will launch the New Health, Wellness and Nature Brand and Web, with destinations specialized mainly in thermal centers, thalassotherapy and rural health tourism, all focused on contact with nature, tradition, art and local cultures.

It will also have various sessions among which stand out: older adults, accessible tourism, transformative trips, families, women, as well as the promotion of other international events in the sector.




BACK TO MAIN PAGE








TERMATALIA 2021

International Congress on Water & Health
September 15, 16 and 17, 2021 - Ourense (Galicia) - Spain - Hybrid format (face-to-face and online)

In the XV International Meeting on Water and Health (www.termatalia.com), FEMTEC will participate as every year in Termatalia and will be represented by its vice president Prof. Florana MenÚndez with a speech on "Restoration of Thermal Centers in a Post Covid World".

Termatalia will bring together professionals from more than 25 countries, promoting the exchange of business, institutional and social experience. A cooperation instrument in order to promote the strategic market of Health and Wellness Tourism.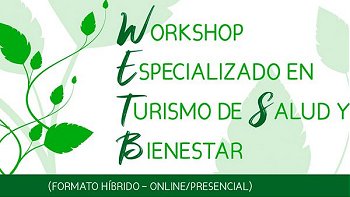 Solymed Travel, tour operator and travel agency specialized in Health and Wellbeing, will participate in the Workshop with Tour Operators and in the Business Round with its Health and Wellbeing Tourism brands. In the semester it will launch the New Health, Wellness and Nature Brand and Web, with destinations specialized mainly in thermal centers, thalassotherapy and rural health tourism, all focused on contact with nature, tradition, art and local cultures.

It will also have various sessions among which stand out: older adults, accessible tourism, transformative trips, families, women, as well as the promotion of other international events in the sector.
BACK TO MAIN PAGE
<!######### BANNERS LINK>