FEMTEC and Chongqing Municipal People's Government (China)
Cooperation Agreement


Global Capital Hot Springs, 17 July 2018

A Forum on Economic and trade Cooperation took place in Zurich the 17 July 2018. The Forum was a very important event, hosted by the Canton of Zurich and with the partecipation of High Officials from the Regional Swiss and Chinese Government (Markus Assfalg, Director for Economy of the Canton Zurich and Tang Liang Zhi, Major of the Chongqing Municipal People's Governement and others distingued guests).

In this occasion many key projects of cooperation have been signed: among them, the cooperation agreement between FEMTEC and Chongqing is very important.

FEMTEC has a long hystory collaboration since 2012 with the City of Chongqing, where an important international Congress has been organized
(www.femteconline.org/congresses/index.php?a=@2012_chongqing.txt)

Chongqing is one of main locations in China from the social/economical and scientific point of wiew. In this Region there are very important historical herithages and natural resources, like hot springs with excellent spa-hotels
(https://it.wikipedia.org/wiki/Chongqing)

The agreement signed between FEMTEC and the CHONGQING MUNICIPALITY is strategic in many respects. The main purposes are: create an Asian Regional Coordinating Office of FEMTEC, an Institute for Researches of Integrate Balneology, an International Training Centers for medical nurses wich works in the hot springs .

Under the guidance of FEMTEC, its Chongqing office shall provide assistance to Chongqing in formulating relevant hot spring industry standards on health, preventive measures, therapeutic effects, water quality, etc.

The two Parties shall jointly support the establishment of the Asian Hot Spring Research Institute in Chongqing. The Institute shall be responsible for the development of geothermal resources and R&D of new technologies, new processes, new equipment, new products, new materials and other hot spring-related products. The Chongqing Government shall form a professional team of experts from qualified enterprises, key higher education institutions in Chongqing and relevant research institutes, to coordinate with FEMTEC the establishment and operation of the Institute.

The two Parties shall jointly promote the development of hot spring tourism and thermalism in Chongqing. The Chongqing Government shall release a series of supporting policies and provide a special fund to support the establishment of a number of demonstrative projects of hot spring valley and thermalism. FEMTEC shall provide guidance to Chongqing for the above mentioned projects and coordinate with the World Health Organization.




BACK TO MAIN PAGE











FEMTEC and Chongqing Municipal People's Government (China)
Cooperation Agreement


Global Capital Hot Springs, 17 July 2018

A Forum on Economic and trade Cooperation took place in Zurich the 17 July 2018. The Forum was a very important event, hosted by the Canton of Zurich and with the partecipation of High Officials from the Regional Swiss and Chinese Government (Markus Assfalg, Director for Economy of the Canton Zurich and Tang Liang Zhi, Major of the Chongqing Municipal People's Governement and others distingued guests).

In this occasion many key projects of cooperation have been signed: among them, the cooperation agreement between FEMTEC and Chongqing is very important.

FEMTEC has a long hystory collaboration since 2012 with the City of Chongqing, where an important international Congress has been organized
(www.femteconline.org/congresses/index.php?a=@2012_chongqing.txt)

Chongqing is one of main locations in China from the social/economical and scientific point of wiew. In this Region there are very important historical herithages and natural resources, like hot springs with excellent spa-hotels
(https://it.wikipedia.org/wiki/Chongqing)

The agreement signed between FEMTEC and the CHONGQING MUNICIPALITY is strategic in many respects. The main purposes are: create an Asian Regional Coordinating Office of FEMTEC, an Institute for Researches of Integrate Balneology, an International Training Centers for medical nurses wich works in the hot springs .

Under the guidance of FEMTEC, its Chongqing office shall provide assistance to Chongqing in formulating relevant hot spring industry standards on health, preventive measures, therapeutic effects, water quality, etc.

The two Parties shall jointly support the establishment of the Asian Hot Spring Research Institute in Chongqing. The Institute shall be responsible for the development of geothermal resources and R&D of new technologies, new processes, new equipment, new products, new materials and other hot spring-related products. The Chongqing Government shall form a professional team of experts from qualified enterprises, key higher education institutions in Chongqing and relevant research institutes, to coordinate with FEMTEC the establishment and operation of the Institute.

The two Parties shall jointly promote the development of hot spring tourism and thermalism in Chongqing. The Chongqing Government shall release a series of supporting policies and provide a special fund to support the establishment of a number of demonstrative projects of hot spring valley and thermalism. FEMTEC shall provide guidance to Chongqing for the above mentioned projects and coordinate with the World Health Organization.




BACK TO MAIN PAGE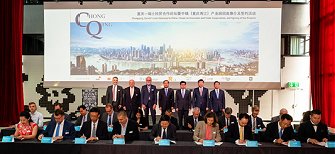 FEMTEC and Chongqing Municipal People's Government (China)
Cooperation Agreement

Global Capital Hot Springs, 17 July 2018

A Forum on Economic and trade Cooperation took place in Zurich the 17 July 2018. The Forum was a very important event, hosted by the Canton of Zurich and with the partecipation of High Officials from the Regional Swiss and Chinese Government (Markus Assfalg, Director for Economy of the Canton Zurich and Tang Liang Zhi, Major of the Chongqing Municipal People's Governement and others distingued guests).

In this occasion many key projects of cooperation have been signed: among them, the cooperation agreement between FEMTEC and Chongqing is very important.

FEMTEC has a long hystory collaboration since 2012 with the City of Chongqing, where an important international Congress has been organized
(www.femteconline.org/congresses/index.php?a=@2012_chongqing.txt)

Chongqing is one of main locations in China from the social/economical and scientific point of wiew. In this Region there are very important historical herithages and natural resources, like hot springs with excellent spa-hotels
(https://it.wikipedia.org/wiki/Chongqing)

The agreement signed between FEMTEC and the CHONGQING MUNICIPALITY is strategic in many respects. The main purposes are: create an Asian Regional Coordinating Office of FEMTEC, an Institute for Researches of Integrate Balneology, an International Training Centers for medical nurses wich works in the hot springs .

Under the guidance of FEMTEC, its Chongqing office shall provide assistance to Chongqing in formulating relevant hot spring industry standards on health, preventive measures, therapeutic effects, water quality, etc.

The two Parties shall jointly support the establishment of the Asian Hot Spring Research Institute in Chongqing. The Institute shall be responsible for the development of geothermal resources and R&D of new technologies, new processes, new equipment, new products, new materials and other hot spring-related products. The Chongqing Government shall form a professional team of experts from qualified enterprises, key higher education institutions in Chongqing and relevant research institutes, to coordinate with FEMTEC the establishment and operation of the Institute.

The two Parties shall jointly promote the development of hot spring tourism and thermalism in Chongqing. The Chongqing Government shall release a series of supporting policies and provide a special fund to support the establishment of a number of demonstrative projects of hot spring valley and thermalism. FEMTEC shall provide guidance to Chongqing for the above mentioned projects and coordinate with the World Health Organization.
BACK TO MAIN PAGE
<!######### BANNERS LINK>