73 FEMTEC Congress - CHONGQING November 2020 In view of the well-known health events we are in contact with the Authorities and Colleagues in Chongqing for any developments and planning. WE WILL INFORM YOU AS SOON AS POSSIBLE
Official presentation of the UNESCO annual report on the state of water resources

21-24 March 2018 - Fontanellato-Parma, IT

The International Summit Labirinto d'Acque will be held at Franco Maria Ricci's Labirinto della Masone under the High Patronage of the President of the Italian Republic and of the European Parliament: four days of important conferences and encounters, dedicated to the theme of water as present and future planet resource.

...MORE

---

Health meets Wealth in Penang

2nd International Health and Wealth Conference
28-30 October 2018

Doors will open again to discuss one of the world´s most prosperous and developing cross-section markets of the modern society. The 2nd IHW Conference, a unique, independent networking event, connects industries, science, business and governance linked to Health & Wealth: healthcare, wellness, tourism, ICT, smart ageing, age-suitable environment, lifestyle, real estate, corporate finance, including all related cross-border opportunities.

...MORE

---





Termatalia 18th - International Exhibition
of Thermal Tourism, Health & Wellness

Brazil - Foz de Iguaçu 19-21 September

See more: Save the Date , Poster



---



We would be delighted to have you as participant at the 2018 Romanian Congress of Balneology & Physical and Rehabilitation Medicine, which will be held on 22-27 May 2018 in Cluj and Turda, Romania.

Opening ceremony of the Congress (22nd of May 2018 at 16,00) and Congress works from 23 until 25 May will be held at Aula ''Iuliu Hatieganu'' of the University of Medicine and Pharmacy, Cluj-Napoca.

...MORE

---





3rd International Congress of Art-Therapy

Moscow, June 6th, 2017

The International Center of Art-Therapy, directed by Prof. Georghi Gigineishivili, artist and medical doctor, will organize its 3rd International Congress, that also includes the integration of Art-Therapy and thermal Medicine.

...MORE

---

XXIII Congress of the European Spas Association


The European Spas Association (ESPA) and the municipality of Veere (The Netherlands) are honoured to invite you to the ESPA Congress - WATER AND HEALTH, a Way of Life taking place in Domburg.

The purpose of the congress is to stimulate thought and discussion about innovation for the medical spas and health resorts in Europe.

...MORE

---

The 2018 Global Wellness Summit

October 6-8, 2018 · Technogym, Cesena, Italy
(The sponsored knowledge workshops, and the pre-Summit cocktail reception, will be held on Friday, October 5).

The ''spirit'' of the GWS is one of shared purpose versus individual gain. It is an opportunity to put aside competitive egos and personal business agendas and spend time joining together and shaping the future of the wellness industries. The GWS brings together top-level decision makers from around the world.

...MORE

---





Les Thermalies c'est reparti !


Le salon, dédié au bien-être et aux bienfaits de l'eau, revient pour une 36ème édition:

- du 18 au 21 janvier 2018 au Carrousel du Louvre à Paris
- du 2 au 4 mars 2018 à Lyon.

Pendant 4 jours, faîtes un tour d'horizon des soins de thalassothérapie les plus innovants et des traitements thermaux les plus adaptés à vos besoins et vos envies.

More ...



---





MedTravelExpo 2017 -4-8 December
Sanatoriums, health resorts, medical centers

Central Exhibition Complex "Expocenter", Moscow

The country's leadership set the task of modernizing and attracting investments in the sanatorium and resort complex, attracting Russian and foreign patients to the health resorts of Russia.

...MORE

---





ALL-RUSSIAN FORUM "Zdravnitsa-2017"

Bashkortostan, Ufa, May 30 - June 1, 2017
Congress Hall, Ufa, ul. Zaki Validi, 2

Main topics of this initiative are public-private joint investments, quality of the environment, personnel training and qualification, thermal clusters.

More than 400 hundred participants, 94 thermal centers and medical companies, 70 scientific speeches on different topics of thermal medicine: these are the figures of the Zravnidza 17, the most important Russian exhibition on thermal medicine.

...MORE

---



Tunisia Health Expo is a major international event of the Health sector and ranks as the biggest biennal international event devoted to Health in Tunisia.

It is organized every 2 years by Société des Foires Internationales de Tunis under the aegis of the Ministry of Health and in collaboration with the National Health Federation.

...MORE

---





Congrès de la FFCM

Mont d'Ore les 12 et 13 Septembre

...MORE



---





Asia Pool & Spa Expo

May 15-17, 2018 - Poly World Trade Center Expo - Pazhou, Guangzhou

Asia Pool & Spa Expo is the leading industry trade fair for the fields of swimming pools,sauna, spa, hot tubs, bath,water feature and water park in Asia. It has made stunning leaps and achieved compelling success since its inception in 2005. Asia Pool & Spa Expo 2018 warmly welcomes your participation.

See more



---





Second Summit of World Thermalism Town


This event will be hold in the Tourism Vacation Area of Mingyueshan Wanting Yichun City, Jianxi Province and Grand Metropark Mingyueshan Hot Spring Resort.

...MORE

---

1st International Thema Wellness Summit


During the period 27-30 april 2017 in the Region of Guizhou (China), in the city of Jian He, took place the 1st International Thema Wellness Summit, organized by the local Regional Governement, with the support of the Chinese Hot Springs Association and FEMTEC.


...MORE

---
Official presentation of the UNESCO annual report on the state of water resources

21-24 March 2018 - Fontanellato-Parma, IT

The International Summit Labirinto d'Acque will be held at Franco Maria Ricci's Labirinto della Masone under the High Patronage of the President of the Italian Republic and of the European Parliament: four days of important conferences and encounters, dedicated to the theme of water as present and future planet resource.

...MORE

---



Tunisia Health Expo is a major international event of the Health sector and ranks as the biggest biennal international event devoted to Health in Tunisia.

It is organized every 2 years by Société des Foires Internationales de Tunis under the aegis of the Ministry of Health and in collaboration with the National Health Federation.

...MORE

---

The 2018 Global Wellness Summit

October 6-8, 2018 · Technogym, Cesena, Italy
(The sponsored knowledge workshops, and the pre-Summit cocktail reception, will be held on Friday, October 5).

The ''spirit'' of the GWS is one of shared purpose versus individual gain. It is an opportunity to put aside competitive egos and personal business agendas and spend time joining together and shaping the future of the wellness industries. The GWS brings together top-level decision makers from around the world.

...MORE

---





Termatalia 18th - International Exhibition
of Thermal Tourism, Health & Wellness

Brazil - Foz de Iguaçu 19-21 September

See more: Save the Date , Poster



---





Asia Pool & Spa Expo

May 15-17, 2018 - Poly World Trade Center Expo - Pazhou, Guangzhou

Asia Pool & Spa Expo is the leading industry trade fair for the fields of swimming pools,sauna, spa, hot tubs, bath,water feature and water park in Asia. It has made stunning leaps and achieved compelling success since its inception in 2005. Asia Pool & Spa Expo 2018 warmly welcomes your participation.

See more



---





MedTravelExpo 2017 -4-8 December
Sanatoriums, health resorts, medical centers

Central Exhibition Complex "Expocenter", Moscow

The country's leadership set the task of modernizing and attracting investments in the sanatorium and resort complex, attracting Russian and foreign patients to the health resorts of Russia.

...MORE

---





3rd International Congress of Art-Therapy

Moscow, June 6th, 2017

The International Center of Art-Therapy, directed by Prof. Georghi Gigineishivili, artist and medical doctor, will organize its 3rd International Congress, that also includes the integration of Art-Therapy and thermal Medicine.

...MORE

---

1st International Thema Wellness Summit


During the period 27-30 april 2017 in the Region of Guizhou (China), in the city of Jian He, took place the 1st International Thema Wellness Summit, organized by the local Regional Governement, with the support of the Chinese Hot Springs Association and FEMTEC.


...MORE

---

XXIII Congress of the European Spas Association


The European Spas Association (ESPA) and the municipality of Veere (The Netherlands) are honoured to invite you to the ESPA Congress - WATER AND HEALTH, a Way of Life taking place in Domburg.

The purpose of the congress is to stimulate thought and discussion about innovation for the medical spas and health resorts in Europe.

...MORE

---

Health meets Wealth in Penang

2nd International Health and Wealth Conference
28-30 October 2018

Doors will open again to discuss one of the world´s most prosperous and developing cross-section markets of the modern society. The 2nd IHW Conference, a unique, independent networking event, connects industries, science, business and governance linked to Health & Wealth: healthcare, wellness, tourism, ICT, smart ageing, age-suitable environment, lifestyle, real estate, corporate finance, including all related cross-border opportunities.

...MORE

---





Congrès de la FFCM

Mont d'Ore les 12 et 13 Septembre

...MORE



---





Les Thermalies c'est reparti !


Le salon, dédié au bien-être et aux bienfaits de l'eau, revient pour une 36ème édition:

- du 18 au 21 janvier 2018 au Carrousel du Louvre à Paris
- du 2 au 4 mars 2018 à Lyon.

Pendant 4 jours, faîtes un tour d'horizon des soins de thalassothérapie les plus innovants et des traitements thermaux les plus adaptés à vos besoins et vos envies.

More ...



---



We would be delighted to have you as participant at the 2018 Romanian Congress of Balneology & Physical and Rehabilitation Medicine, which will be held on 22-27 May 2018 in Cluj and Turda, Romania.

Opening ceremony of the Congress (22nd of May 2018 at 16,00) and Congress works from 23 until 25 May will be held at Aula ''Iuliu Hatieganu'' of the University of Medicine and Pharmacy, Cluj-Napoca.

...MORE

---





Second Summit of World Thermalism Town


This event will be hold in the Tourism Vacation Area of Mingyueshan Wanting Yichun City, Jianxi Province and Grand Metropark Mingyueshan Hot Spring Resort.

...MORE

---





ALL-RUSSIAN FORUM "Zdravnitsa-2017"

Bashkortostan, Ufa, May 30 - June 1, 2017
Congress Hall, Ufa, ul. Zaki Validi, 2

Main topics of this initiative are public-private joint investments, quality of the environment, personnel training and qualification, thermal clusters.

More than 400 hundred participants, 94 thermal centers and medical companies, 70 scientific speeches on different topics of thermal medicine: these are the figures of the Zravnidza 17, the most important Russian exhibition on thermal medicine.

...MORE

---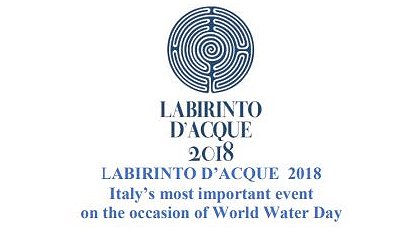 Official presentation of the UNESCO annual report on the state of water resources
21-24 March 2018 - Fontanellato-Parma, IT

The International Summit Labirinto d'Acque will be held at Franco Maria Ricci's Labirinto della Masone under the High Patronage of the President of the Italian Republic and of the European Parliament: four days of important conferences and encounters, dedicated to the theme of water as present and future planet resource.

...MORE
---

XXIII Congress of the European Spas Association

The European Spas Association (ESPA) and the municipality of Veere (The Netherlands) are honoured to invite you to the ESPA Congress - WATER AND HEALTH, a Way of Life taking place in Domburg.

The purpose of the congress is to stimulate thought and discussion about innovation for the medical spas and health resorts in Europe.

...MORE
---



Tunisia Health Expo is a major international event of the Health sector and ranks as the biggest biennal international event devoted to Health in Tunisia.

It is organized every 2 years by Société des Foires Internationales de Tunis under the aegis of the Ministry of Health and in collaboration with the National Health Federation.

...MORE
---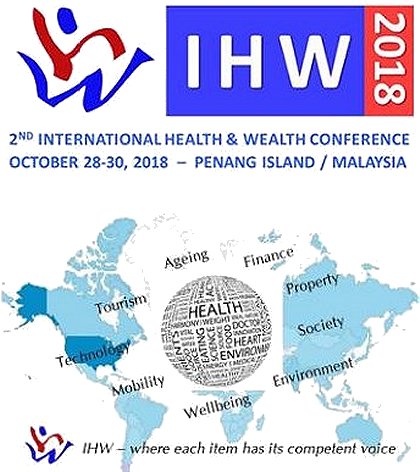 Health meets Wealth in Penang
2nd International Health and Wealth Conference
28-30 October 2018

Doors will open again to discuss one of the world´s most prosperous and developing cross-section markets of the modern society. The 2nd IHW Conference, a unique, independent networking event, connects industries, science, business and governance linked to Health & Wealth: healthcare, wellness, tourism, ICT, smart ageing, age-suitable environment, lifestyle, real estate, corporate finance, including all related cross-border opportunities.

...MORE
---

The 2018 Global Wellness Summit
October 6-8, 2018 · Technogym, Cesena, Italy
(The sponsored knowledge workshops, and the pre-Summit cocktail reception, will be held on Friday, October 5).

The ''spirit'' of the GWS is one of shared purpose versus individual gain. It is an opportunity to put aside competitive egos and personal business agendas and spend time joining together and shaping the future of the wellness industries. The GWS brings together top-level decision makers from around the world.

...MORE
---

Congrès de la FFCM
Mont d'Ore les 12 et 13 Septembre
...MORE
---

Termatalia 18th - International Exhibition
of Thermal Tourism, Health & Wellness
Brazil - Foz de Iguaçu 19-21 September

See more: Save the Date , Poster


---

Les Thermalies c'est reparti !

Le salon, dédié au bien-être et aux bienfaits de l'eau, revient pour une 36ème édition:

- du 18 au 21 janvier 2018 au Carrousel du Louvre à Paris
- du 2 au 4 mars 2018 à Lyon.

Pendant 4 jours, faîtes un tour d'horizon des soins de thalassothérapie les plus innovants et des traitements thermaux les plus adaptés à vos besoins et vos envies.

More ...


---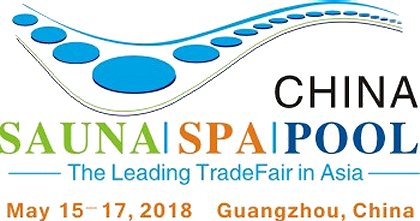 Asia Pool & Spa Expo
May 15-17, 2018 - Poly World Trade Center Expo - Pazhou, Guangzhou

Asia Pool & Spa Expo is the leading industry trade fair for the fields of swimming pools,sauna, spa, hot tubs, bath,water feature and water park in Asia. It has made stunning leaps and achieved compelling success since its inception in 2005. Asia Pool & Spa Expo 2018 warmly welcomes your participation.

See more


---



We would be delighted to have you as participant at the 2018 Romanian Congress of Balneology & Physical and Rehabilitation Medicine, which will be held on 22-27 May 2018 in Cluj and Turda, Romania.

Opening ceremony of the Congress (22nd of May 2018 at 16,00) and Congress works from 23 until 25 May will be held at Aula ''Iuliu Hatieganu'' of the University of Medicine and Pharmacy, Cluj-Napoca.

...MORE
---

MedTravelExpo 2017 -4-8 December
Sanatoriums, health resorts, medical centers
Central Exhibition Complex "Expocenter", Moscow

The country's leadership set the task of modernizing and attracting investments in the sanatorium and resort complex, attracting Russian and foreign patients to the health resorts of Russia.

...MORE
---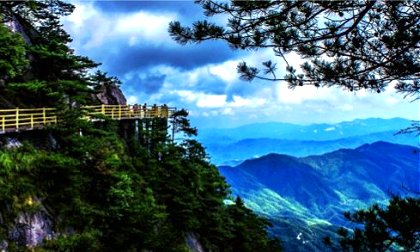 Second Summit of World Thermalism Town

This event will be hold in the Tourism Vacation Area of Mingyueshan Wanting Yichun City, Jianxi Province and Grand Metropark Mingyueshan Hot Spring Resort.

...MORE
---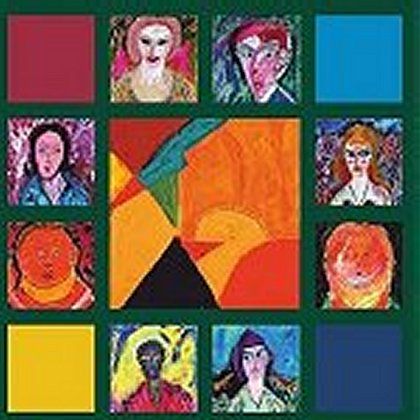 3rd International Congress of Art-Therapy
Moscow, June 6th, 2017

The International Center of Art-Therapy, directed by Prof. Georghi Gigineishivili, artist and medical doctor, will organize its 3rd International Congress, that also includes the integration of Art-Therapy and thermal Medicine.

...MORE
---

ALL-RUSSIAN FORUM "Zdravnitsa-2017"
Bashkortostan, Ufa, May 30 - June 1, 2017
Congress Hall, Ufa, ul. Zaki Validi, 2

Main topics of this initiative are public-private joint investments, quality of the environment, personnel training and qualification, thermal clusters.

More than 400 hundred participants, 94 thermal centers and medical companies, 70 scientific speeches on different topics of thermal medicine: these are the figures of the Zravnidza 17, the most important Russian exhibition on thermal medicine.

...MORE
---

1st International Thema Wellness Summit

During the period 27-30 april 2017 in the Region of Guizhou (China), in the city of Jian He, took place the 1st International Thema Wellness Summit, organized by the local Regional Governement, with the support of the Chinese Hot Springs Association and FEMTEC.


...MORE
---
PAGES [ last one: 5 ] [ present: 3 ][ archive: 4 - 3 - 2 - 1 - ]
<!######### BANNERS LINK>